Posted on April 22, 2016
Filed Under Uncategorized | Leave a Comment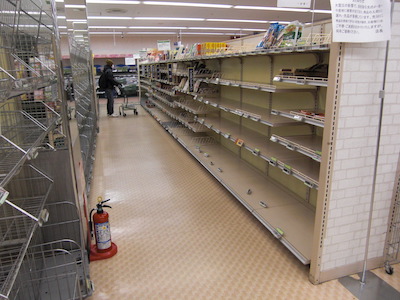 Disasterous. Unheard of. Over 500 earthquakes over 3 days, with the largest being 7.3 M… Of course there were buildings collapsed, roads destroyed, gas pipes broken, and damage that one wolud expect.
There were miracles as well like the 8 month old baby girl that was pulled from the rubble by rescue workers. She was crushed when the building she was sleeping in collapsed but miraculously, the rubble created enough room around her as it feel to protect her… and even more miraculous was that in the turmoil,
Posted on April 13, 2016
Filed Under Kansai Food Bank, relief & aid, volunteer | Leave a Comment
Thank you to the intern applicant that called and let us know that the contact form was not sending messages, we have corrected the problem. Anyone wishing to volunteer to help maintain or update this website, please drop us a line!
Kozmoz International
Posted on October 5, 2015
Filed Under Uncategorized | Leave a Comment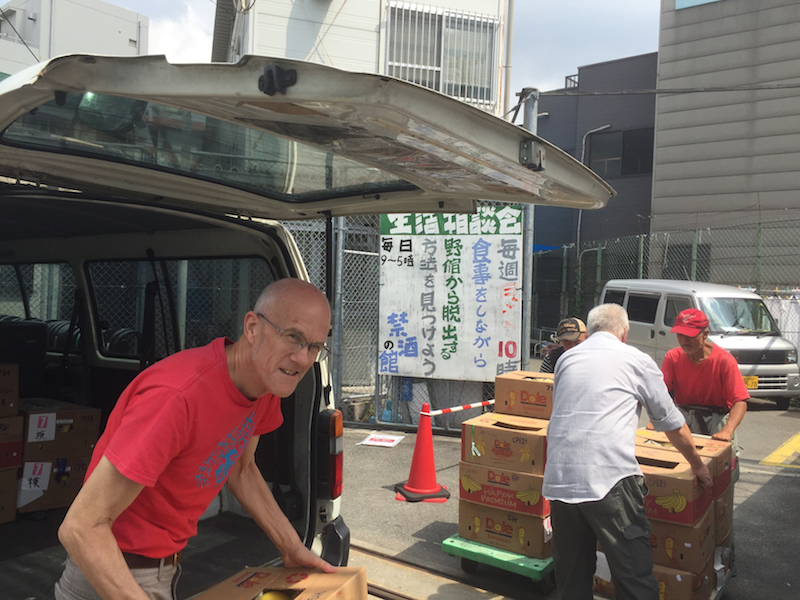 Old or Young, the desire to help other people is something every one can have. Here at Kozmoz, we have several senior citizens that dedicate their time to helping the needy.
Im sure there are more people like that with time on their hands that would like to make a difference in someone's life. Take Nick here for example, He is 69 years young and though having an incredibly busy schedule he makes time every week to drive out to the port in Kobe and pick up fresh fruit, pack his car to the brim and then drive over to Nishinari to drop them off at a homeless shelter. This goes without saying but it takes quite a bit of time to accomplish this. But Nick does this almost every week. The reason? Simply just to help out his fellow brother in need.
If you have some time, there is a place for you as well!
Posted on August 22, 2014
Filed Under Kansai Food Bank, Uncategorized | Leave a Comment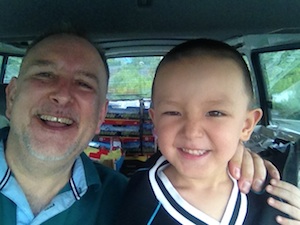 That's my boy Rio, youngest of my three boys. We had a great day yesterday delivering all kinds of fruits, pastries, and veggies to institutions for the less fortunate in Osaka yesterday in the Kansai region south of where we live in Kyoto.
We stopped by one in Ibaraki that we deliver to weekly. Rio is an adventurous and friendly little three year old and as I was unloading and talking with the staff nutritionist as always he disappeared in a cloud of dust and laughter. After I finished and was ready to move to our next destination, I went to round him up. I found his shoes in the genkan and continued my search.
Posted on March 10, 2014
Filed Under Kansai Food Bank, relief & aid, volunteer | Leave a Comment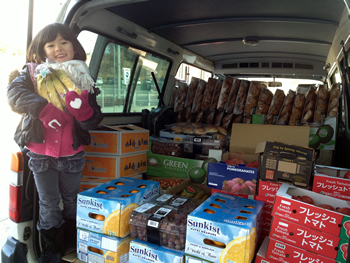 Last year Kozmoz and the community members of Kansai joined forces to provide over 300,000 kg of food products to the less fortunate in their community absolutely for free. What makes this so amazing is that in a time of government cutbacks, community members decided that they were not willing to watch their neighbors suffer and decided to do something about the widening gap between the wealthy and the needy. "I think that having a single mom and her child starve to death in their apartment in Osaka last year because she was ashamed to ask her neighbors for help, woke a lot of people up" said Food Bank director Barry Wyatt. "People realized that just because a person does not have obvious signs of distress, we can not take for granted that our next door neighbor and their children are doing fine. Traditionally, we were involved with our neighbors and it is time for us to return to our cultural heritage of helping each other". The current poverty rate is over 16 percent and that means that one in seven of the people around us is in economic distress.
Posted on May 2, 2013
Filed Under culture exchange, Kansai Food Bank, volunteer | Leave a Comment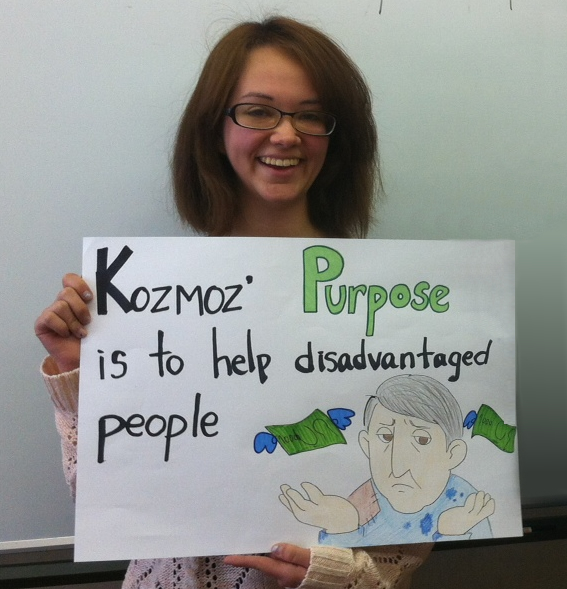 I had a wonderful time this morning with small people. These small people were from the Kyoto International School and Pamela, one of our interns, and I went to talk to them because they wanted to find out just what Kozmoz did and why.
I love small people and let me tell you why. Small people have only begun the socialization process. The process that robs many of us of creativity, the sense of wonder about the world around us, and that wonderful notion that dreams can come true. It seems that societies need for obedient workers that won't make too many waves replaces all that wonder with the seeming need for the latest fashions, cars, houses, consumer gadgets….
Posted on December 19, 2012
Filed Under events | Leave a Comment
December 26, 2012
12:00 am
to
10:00 pm
On the Big Screen in the 3rd floor movie theater at the Kyoto Kozmoz Center will be playing a classic Christmas Movie from 8:00 on the 26th. Free Popcorn n drinks and anyone can enjoy the night with us! Don't miss it!
Posted on December 19, 2012
Filed Under events | Leave a Comment
We will be serving Christmas Dinner to the Homeless, this year near Tennoji Osaka.
Would love to have you help. We will be making Meals at the Kyoto Kozmoz Center from 11:00 and delivering the meals in the evening so drop us a line if you can help!
Posted on December 19, 2012
Filed Under events | Leave a Comment
All day on the 24th, we will be enjoying and sharing the Christmas spirit here in Kyoto.
11:00~ open house with lots of Christmas goodies☆
6:00- kids party
7:00 Kozmoz Kids Choir
7:30 Christmas Message
8:00 Christmas Party
Hope to see you!
Posted on December 19, 2012
Filed Under events | Leave a Comment
December 21, 2012
12:00 am
to
11:00 pm
Name says it all, dont know if the Mayans were right but it sounded like a great excuse to for all the Kozmoz family and friends to gather for some good food n make some memories. Drop a line if you are able to come!
keep looking »