Posted on June 18, 2018
Filed Under relief & aid | 2 Comments
水ー食品ー緊急連絡 080ー5703ー6441 またmessage
Posted on July 10, 2017
Filed Under Kansai Food Bank, Uncategorized, volunteer | Leave a Comment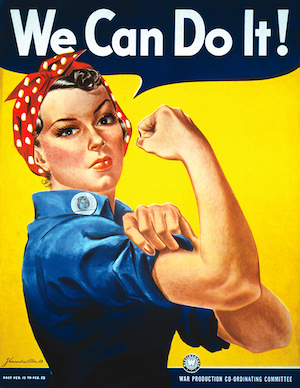 After the election, one thing I have heard alot is, "I hope things will settle back down to normal now….
Actually, that is absolutely the last thing I want…
Just what is normal?
First, this is an interesting picture, and it speaks alot of just what is normal in America, or at least what has become normal. This was a poster produced for Westinghouse Co. to boost the moral of workers for the war effort. I think we should remember what that effort was- to completely annihilate Germany and Japan. For an interesting look at the other side of the war in Germany, check the link here. We all know what happened to Japan. It says something deeper though. It is a graphical representation of the women of our country subjugating their roles as nurturers and prime instillers of our societies values in the next generation to the task of assisting in the killing of the next generation of our partners on this planet.
Clearly what has become normal is war… for all practial purposes, the US has been at war nearly non-stop for nearly 100 years… you can see the list here if some have slipped your mind
Posted on August 27, 2016
Filed Under culture exchange, Kansai Food Bank, relief & aid, volunteer | Leave a Comment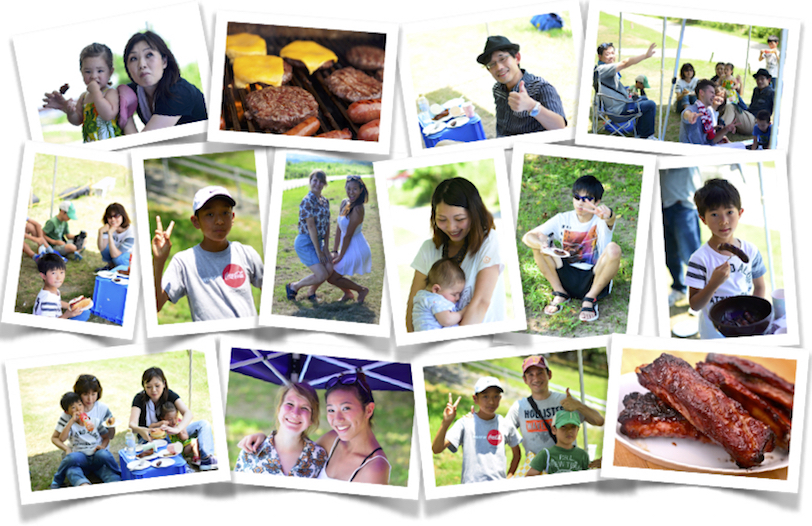 Back in 1992 Bil Clinton won the presidential election because his campaign was able to boil down the general disatisfaction of the electorate in one simple phrase. "Its the economy stupid". It cut through all the confusion and people could really relate to what they were experiencing personally. It just hit home. While enjoying a scrumptious BBQ with friends and family from the English School in Kyoto that provides the lions share of the funding for the social activities that Kozmoz provides in Japan, it hit me just how simple this all was. We have neighbors helping neighbors, neighbors funding neighbors, making the community just a little better without raising anyones taxes, without asking corporate donors hundreds or thousands of miles away what to do in our community and without filling out reams of papers to get grants. What a simple concept, Maybe, just maybe this is the way it was always meant to work. It's the community stupid;) Hope everyone out there that didn't have the opportunity to come to a Kozmoz BBQ this was able to enjoy one with family and friends in their community as well!
Posted on July 9, 2016
Filed Under culture exchange, Kansai Food Bank | Leave a Comment

Never a 4th of July goes by with an annual Kozmoz BBQ! This year too Papa Bear n Caston dished out the vittles we miss from back home… Slow baked n BBQ ribs with the meat just ready to fall off the bones, spiced chicken strips, italian sausages, world famous K Burgers and of course a bevy of veggies. Dont miss the going away party for Hettie on Saturday July 23rd from 8:00pm. Rumor is that it will be an all you can eat Mexican Fiesta, arriba! Betchya there is going to be buckets of ice cold Coronas to wash it all down with. See you there!
Posted on May 24, 2016
Filed Under Kansai Food Bank, Uncategorized | Leave a Comment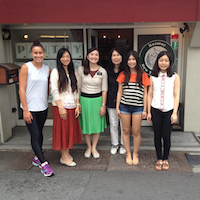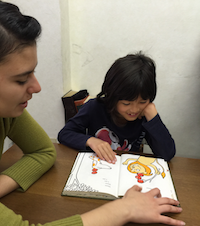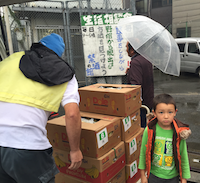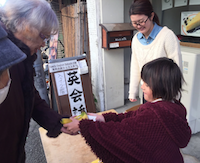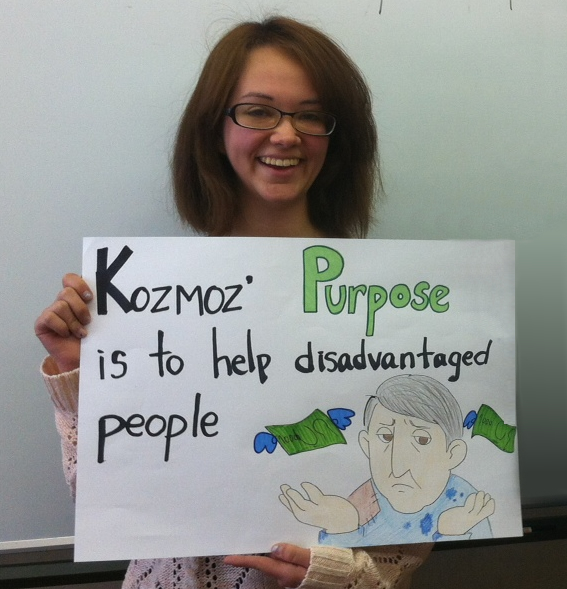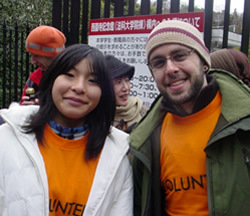 Usually we say a picture is worth a thousand words…. Kozmoz means many things to many people. It operates a food bank, sponsors cultural exchange events, as well as providing international internships for giving people from all over the world a chance to experience Japanese culture and learn about social enterprise and how to structure our society for the future in a way that empowers people to shrink the ever growing gap between the .01% and the rest.
It does all these things without seeking corporate, foundational or grant money from the government. So how does Kozmoz provide these services? Over 90 percent of Kozmoz budget comes from our language school in Kyoto. This school is staffed by volunteers, and all of the profits go to cover the costs of the social programs that Kozmoz runs in Japan.
But why? Because the ends do not justify the means. Most charities seek sponsorship from corporations, foundations, and government grants. So why doesn't Kozmoz? Kozmoz feels that the organizations goals would be comporomized if we were trading good deeds for publicity in order to solicit funding from corporations, receiving tax money violates the non-agression policy that hold as our core value..
One of our greatest goals is to provide a replicable economic model for other small groups to fund social projecxt while investing in the community. Kozmoz thanks all the students that have come to our school in Kyoto to improve their English and find out about and help meet the needs in their communities. Its amazing just how many pictures come from a single word.
Kozmoz accepts interns from all around the world. If you would be interested in learning alternative economics, the way a social enterprise could change your community, or taking an opportunity to view your world in a new way, consider applying for an internship in Kyoto Japan!
Posted on April 22, 2016
Filed Under Uncategorized | Leave a Comment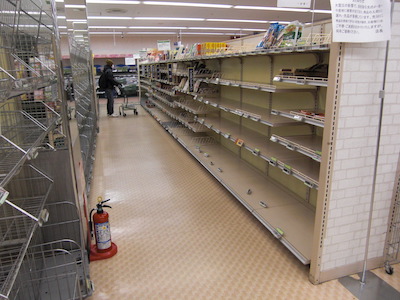 Disasterous. Unheard of. Over 500 earthquakes over 3 days, with the largest being 7.3 M… Of course there were buildings collapsed, roads destroyed, gas pipes broken, and damage that one wolud expect.
There were miracles as well like the 8 month old baby girl that was pulled from the rubble by rescue workers. She was crushed when the building she was sleeping in collapsed but miraculously, the rubble created enough room around her as it feel to protect her… and even more miraculous was that in the turmoil,
Posted on April 13, 2016
Filed Under Kansai Food Bank, relief & aid, volunteer | Leave a Comment
Thank you to the intern applicant that called and let us know that the contact form was not sending messages, we have corrected the problem. Anyone wishing to volunteer to help maintain or update this website, please drop us a line!
Kozmoz International
Posted on October 5, 2015
Filed Under Uncategorized | Leave a Comment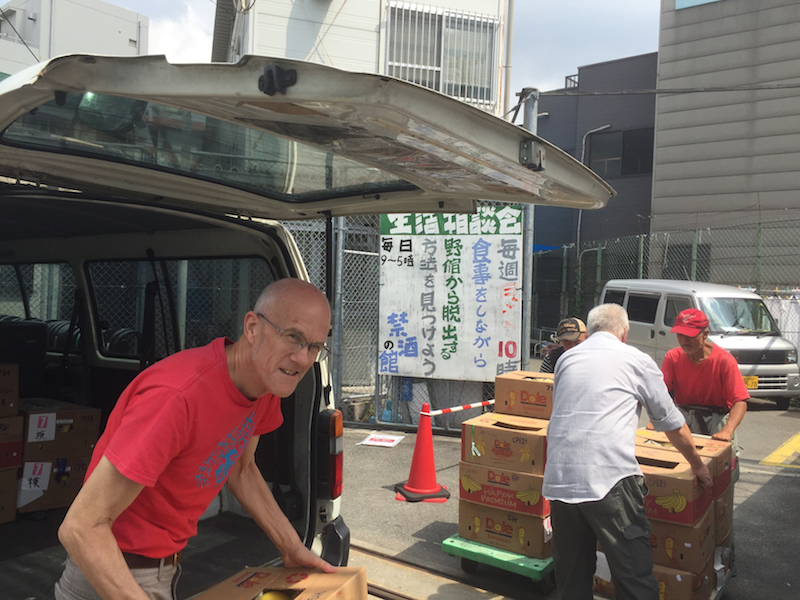 Old or Young, the desire to help other people is something every one can have. Here at Kozmoz, we have several senior citizens that dedicate their time to helping the needy.
Im sure there are more people like that with time on their hands that would like to make a difference in someone's life. Take Nick here for example, He is 69 years young and though having an incredibly busy schedule he makes time every week to drive out to the port in Kobe and pick up fresh fruit, pack his car to the brim and then drive over to Nishinari to drop them off at a homeless shelter. This goes without saying but it takes quite a bit of time to accomplish this. But Nick does this almost every week. The reason? Simply just to help out his fellow brother in need.
If you have some time, there is a place for you as well!
Posted on August 22, 2014
Filed Under Kansai Food Bank, Uncategorized | 1 Comment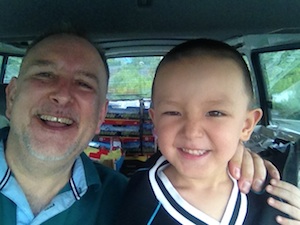 That's my boy Rio, youngest of my three boys. We had a great day yesterday delivering all kinds of fruits, pastries, and veggies to institutions for the less fortunate in Osaka yesterday in the Kansai region south of where we live in Kyoto.
We stopped by one in Ibaraki that we deliver to weekly. Rio is an adventurous and friendly little three year old and as I was unloading and talking with the staff nutritionist as always he disappeared in a cloud of dust and laughter. After I finished and was ready to move to our next destination, I went to round him up. I found his shoes in the genkan and continued my search.
Posted on March 10, 2014
Filed Under Kansai Food Bank, relief & aid, volunteer | Leave a Comment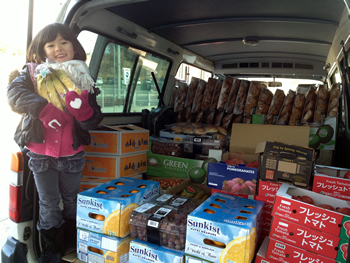 Last year Kozmoz and the community members of Kansai joined forces to provide over 300,000 kg of food products to the less fortunate in their community absolutely for free. What makes this so amazing is that in a time of government cutbacks, community members decided that they were not willing to watch their neighbors suffer and decided to do something about the widening gap between the wealthy and the needy. "I think that having a single mom and her child starve to death in their apartment in Osaka last year because she was ashamed to ask her neighbors for help, woke a lot of people up" said Food Bank director Barry Wyatt. "People realized that just because a person does not have obvious signs of distress, we can not take for granted that our next door neighbor and their children are doing fine. Traditionally, we were involved with our neighbors and it is time for us to return to our cultural heritage of helping each other". The current poverty rate is over 16 percent and that means that one in seven of the people around us is in economic distress.
« go back
—
keep looking »