Posted on August 22, 2014
Filed Under Kansai Food Bank, Uncategorized | 1 Comment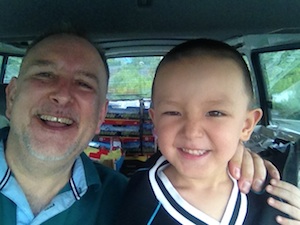 That's my boy Rio, youngest of my three boys. We had a great day yesterday delivering all kinds of fruits, pastries, and veggies to institutions for the less fortunate in Osaka yesterday in the Kansai region south of where we live in Kyoto.
We stopped by one in Ibaraki that we deliver to weekly. Rio is an adventurous and friendly little three year old and as I was unloading and talking with the staff nutritionist as always he disappeared in a cloud of dust and laughter. After I finished and was ready to move to our next destination, I went to round him up. I found his shoes in the genkan and continued my search.
It is Obon holidays here now so the kids in the orphanage are out of school so all 130 kids at this one were out playing even though it was a week day, usually we don't see them when making deliveries so honestly it becomes a bit routine so today was more fun than usual. The kids always ask where I am from and why I speak japanese. I usually tell them I am from Mars and I am a robot that can speak any language, and they all laugh and giggle. The banter is always fun.
When I found Rio, he was playing with a group of kids and they were having a great time. Why can't adults be so open and sharing I thought… Of course Rio wanted to play more but he reluctantly said his good byes and we headed toward the truck. As we did, what I heard broke my heart.
"I thought he was coming to stay here."
"No, that's his daddy"
"Yeah, but my daddy never takes me home…"
"No, he lives with his family"
"I bet he has a mommy too"
"His daddy is cool, I bet his mommy is pretty"
"I wish I had a mommy…"
"I wish I could live like that"
"Me too…"
"Me too…"
" Bye Riokun, come play again soon"
"Bye Mr Bear, thank you for always bringing us yummy treats!"
I said, "Eat your veggies or no more pastries'"
"We will!!"
I said "Promise?"
"Promise!"
"Bring Rio to play again soon!"
"Ganbatte Rio!"
As I drove away, it was hard to hold back the tears. Rio asked what was wrong, I told him I loved him, and we headed to our next destination. Where the same scene repeated itself….
And I remembered why I volunteer at Kozmoz.
Comments
// Get wp-comments.php template