Posted on November 30, 2021
Filed Under Uncategorized | Leave a Comment
That was nice of the newspaper to recognize the hard work that all the teachers, burger makers, waiters, interns and volunteers have put in to make their communities a little nicer place to live.
https://www.sankei.com/article/20211112-R4P6UTHHSVPNHCE6EW5SHMCT5U/?fbclid=IwAR2g1C1CNjSby8Yrc1h6Omlz8mVBA6HRnygzpaRUKsIHc6aox7djxyj_1RI
Posted on November 23, 2021
Filed Under Uncategorized | Leave a Comment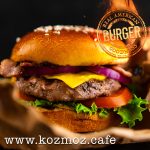 Good Morning Folks! Just a quick update to announce we are now live with our NEW Website, http://www.kozmoz.cafe✨ We have also set up a new merchandise store (Link on our new website) where you can buy Kozmoz Cafe themed goods 😁
*All proceeds from both our Cafe and our Merchandise sales go towards our Kozmoz Japan Kansai Foodbank service. Any support you give, goes a long way to help many, many people in need 💜🍔 🎉
Posted on October 13, 2021
Filed Under Uncategorized | Leave a Comment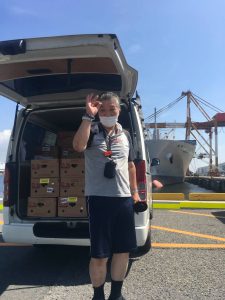 This is Mr. Hori. Mr. Hori is over 70 years old. Most every Friday, Mr. Hori picks up foodstuffs and delivers it to less fortunate people in Osaka, Kobe and Kyoto. Mr. Hori doesn't post about what others can do. Mr. Hori makes the world a better place. Mr. Hori is a volunteer. Mr. Hori is a hero. Be like Mr. Hori.
Posted on December 14, 2020
Filed Under Uncategorized | Leave a Comment
Busy days and Christmas right around the corner. Had a mountain of instant ramen come in to the food bank this week. Great timing as the cold winds of winter finally came roaring in this week as well. Impoverished souls are enjoying hot soup and happy knowing that someone cared enough to help them out. But keeping those bellies full means more than just passing out food stuffs. Sarah came by to teach English classes so we could make enough money to fill up the delivery truck. It takes about 4 classes to make enough to fill up the truck. In the middle of all the busy, Rio needs help getting his math skills up to speed. Heroes? Yup, every teacher, n Rio loading the truck with boxes too!
Posted on August 18, 2020
Filed Under Uncategorized | Leave a Comment
Here is a question I get often. How is the Kozmoz Food Bank Funded? Well, Caston runs an English School that provides about 90% of the budget. The rest comes from people like yourself that care about their community and make small donations or provide services to enable us to do more with less. Now, since he is busy keeping the ship upright, he rarely has time to make deliveries. Last week was Obon holiday so he was able to deliver to institution and homeless as well. Thanks for all you do Caston!
Posted on August 7, 2020
Filed Under Uncategorized | Leave a Comment
Here is the A-Team loading the truck at the warehouse for a day of delivering foodstuffs to less fortunate in Osaka and Kyoto. Great way to spend a day of summer vacation. Of course we did summer homework when we got back. Gotta exercise the body, the mind and the heart as well to be good community members. Thanks Guys!
Posted on March 13, 2020
Filed Under Uncategorized | Leave a Comment
The schools are closed, graduation canceled, sporting events canceled, weddings postponed….What is open? The good news is that the food bank is open. Here is the crew working hard and enjoying their break after delivering to orphanages and old folks homes today. Serviced about 500 people today.
The bad news? Well since the food bank does not solicit tax funds and is self funded… with our income producing activities reduced, we are a little stretched for funds. There are no paid food bank staff but we do need funds for diesel, replacing sketchy tires, storage etc.
Feeling generous? Two tires will cost 12000 yen, one delivery trip costs about 5000 yen, lunch for the volunteers costs about 1000 yen… if you are tight on dough just cheer us on, however if you have a a few extra pennies, we would put them to good use. Take care everyone, be safe, wash your hands and don't forget the less fortunate. They are family and family are not the responsibility of the government, they are our responsibility.
Posted on June 18, 2018
Filed Under relief & aid | 2 Comments
水ー食品ー緊急連絡 080ー5703ー6441 またmessage
Posted on July 10, 2017
Filed Under Kansai Food Bank, Uncategorized, volunteer | Leave a Comment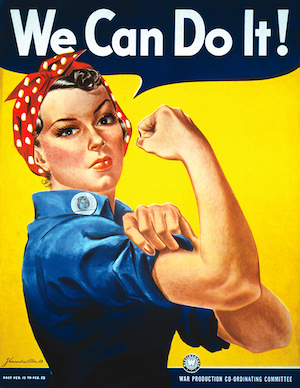 After the election, one thing I have heard alot is, "I hope things will settle back down to normal now….
Actually, that is absolutely the last thing I want…
Just what is normal?
First, this is an interesting picture, and it speaks alot of just what is normal in America, or at least what has become normal. This was a poster produced for Westinghouse Co. to boost the moral of workers for the war effort. I think we should remember what that effort was- to completely annihilate Germany and Japan. For an interesting look at the other side of the war in Germany, check the link here. We all know what happened to Japan. It says something deeper though. It is a graphical representation of the women of our country subjugating their roles as nurturers and prime instillers of our societies values in the next generation to the task of assisting in the killing of the next generation of our partners on this planet.
Clearly what has become normal is war… for all practial purposes, the US has been at war nearly non-stop for nearly 100 years… you can see the list here if some have slipped your mind
Posted on August 27, 2016
Filed Under culture exchange, Kansai Food Bank, relief & aid, volunteer | Leave a Comment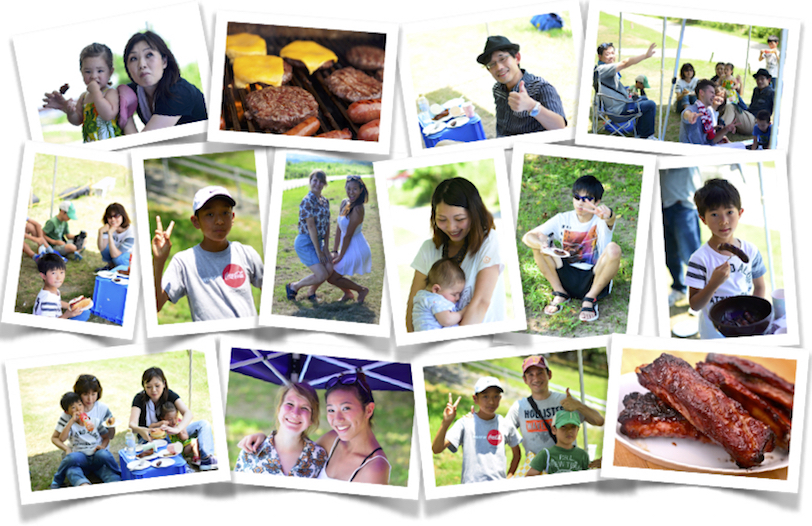 Back in 1992 Bil Clinton won the presidential election because his campaign was able to boil down the general disatisfaction of the electorate in one simple phrase. "Its the economy stupid". It cut through all the confusion and people could really relate to what they were experiencing personally. It just hit home. While enjoying a scrumptious BBQ with friends and family from the English School in Kyoto that provides the lions share of the funding for the social activities that Kozmoz provides in Japan, it hit me just how simple this all was. We have neighbors helping neighbors, neighbors funding neighbors, making the community just a little better without raising anyones taxes, without asking corporate donors hundreds or thousands of miles away what to do in our community and without filling out reams of papers to get grants. What a simple concept, Maybe, just maybe this is the way it was always meant to work. It's the community stupid;) Hope everyone out there that didn't have the opportunity to come to a Kozmoz BBQ this was able to enjoy one with family and friends in their community as well!
keep looking »