Posted on March 12, 2011
Filed Under Uncategorized | Leave a Comment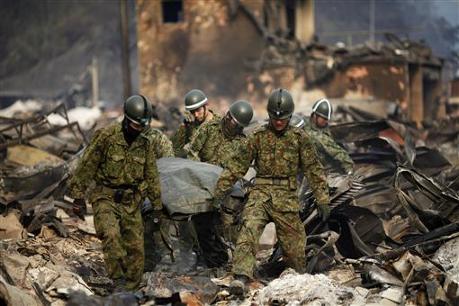 No, that is not a scene from some war torn country. Those are Japanese soldiers carrying one of my japanese brothers that fell victim to the devistating earthquake and tsunami a week ago…
There is an old addage that says, "you don't know what you have until it is gone". And I have lost something precious. The Japan where 3 of my children were born, where I have spent over 1/3rd of my life, ?where I have learned the greatest lessons of my life has been wounded and brought to her knees.
As we speak, and weep, ?less than a days drive there are 4 nuclear reactors in possible meltdown. True Heros have battled all week to keep things in check but difficulty after difficulty have nutered there efforts. As a hail Mary, they continue to pump sea water thru a chain of pump trucks to keep spent fuel rods under water and to keep the core of the reactors full to keep them from melting down but it looks very bleek indeed. The power company has worked feverishly to get power restored to the pumps that keep the reactors cool… they are close but unseasonable cold weather has slowed the process. At least that is the news that just came through.
On a positive, there was a miraculous rescue of an infant 2 days ago that somehow survived like Moses in the Nile after being swept out of its mothers grip by the tsunami. And among the thousands and thousands of families with nothing but sad endings, this family was reunited. I fear the miracles are ebbing at this time do to time and the ravages of the bitter cold.
I pray for my Japan, I pray for my brothers, and I do what I can by taking food and supplies. This will be a long hard job in bringing my Japan back to health. But it is a labor of love. I will drive this truck from Kyoto to Tohoku many times over the next years.
I would love to have your help as well. – Barry
Comments
// Get wp-comments.php template