Posted on April 10, 2011
Filed Under Uncategorized | Leave a Comment
Truck leaving tonite-april 4th
Each week as our trucks are full we are delivering needed aid and supplies to the victims of the tsunami. This time we will be delivering north of Ishinomaki in a very hard hit area. Don't worry if you did not get your donations in for this truck, they can be on the next truck that leaves in a few days. Thank you for your support and please continue to deliver or send needed items to our Kyoto center.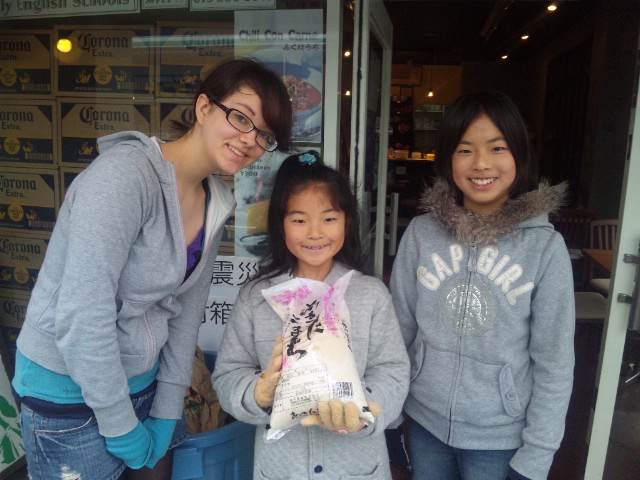 It is good to know how your money is used by different organizations so that your money is used as you intended. Some organizations like KOZMOZ focus on immediate aid thru delivering foodstuffs, volunteers, and needed supplies directly to ground zero. Other agencies such as the Red Cross Japan focus on after crisis care and ongoing support. As of now, not one yen of the donations to the Red Cross nor the General Fund of Japan have been translated into aid for the earthquake victims. They will be distributed once the local governments and agencies finish negotiating over how to use the funds best, probably starting in May. BOTH are important. The victims will need temporary housing, assistance to orphans, counseling, relocation assistance etc. However, remember that these victims need clothes NOW, they need food NOW, they need basic living necessities NOW. The victims need your help NOW, and they will need ongoing support as well.
KOZMOZ TEAM IN ISHINOMAKI- march 30th
Komzoz Team Members delivered 3 tons of much needed rice and supplies March 28th to Ishinomaki, a devastated area north of Sendai. It took 2000 km of driving to get there and back to the base in Kyoto. Though many of the roads have been opened, there are still vast areas north of Ishinomaki that are still unreachable by land. Overwhelmed by the need, team member from the AJET org. Matt Cook, stayed to assist cleanup and delivery operations. Another team member from an associated group that landed farther north by sea reported dire needs for medical supplies, food, and daily use products. We will be leaving for that area with the next truck on Monday April 4th. After two weeks, and waning news coverage, there may be a perception that the needs are being met and that we can get on with our lives as usual. Being at ground zero, I can assure you that we have not even begun to address the depth of human suffering left in the wake of this disaster. People need food, they need to get dry and warm, they need medical care, they need adequate shelter, they need adequate sanitation. We need your help to keep these trucks rolling. Kozmoz members receive no remuneration and cover their own expense to bring this needed aid. Donate goods as listed below, and help cover the costs of the relief effort by using the donate button to the right of the page please.>>
An 80 year old woman was pulled from the rubble alive after 9 days along with her 16 year old grandson. Amid the tragedy, sadness and fatigue that besets the rescue workers, miracles are still happening and we rejoice at the good news.
Please be careful as you make efforts to help the victims.Many large organizations and Government agencies in spite of a desire to help simply are unable to move quick enough to save people as they are bound in red tape. Kozmoz Japan has been working in Japan for 16 years, is on the ground and working with LOCAL groups to make sure your donations reach their destination NOW!
OSAKA PUBLIC SCHOOLS TEAM WITH KOZMOZ march 20th
Osaka public schools including Morofuku and Tanigawa junior high schools are collecting donations of food, clothing, sanitary products, baby products etc. to help the victims of the earthquake/ tsunami. Thank You!!
Comments
// Get wp-comments.php template