Posted on May 23, 2011
Filed Under relief & aid | Leave a Comment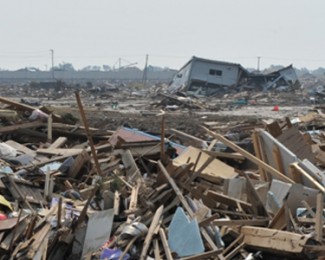 Sorry to be late with an update regarding conditions in the tsunami ravaged tohoku region, I was just wiped out after our last marathon vegetable delivery run to the disaster area….
Bernie n I started out on Tuesday nite this time as opposed to Sunday night that seems to always work the best so it felt like everything was just off kilter from the beginning. That day we had raced to Costco in the morning and had planned to have some coffee with my pal Jay whose students at Rainbow English paid for our fuel again. I felt like a heel as we swung in, grabbed the cash and didnt even have time to catch up… I owe that man at least a case of Yebisu that I will enjoy drinking with him.
We made it back in time to fuel up the rig n head out to the Central Osaka Market to stuff the truck with vegetables. The vegetables were provided by Yukiko Yoshizato whom I affectionately call the Veggie Princess and has been wonderful providing fresh vegetables at fire sale prices. She is without a doubt the most charming purveyor of produce I have ever had the privilege to meet ; ) This would also be a good chance to mention that that when we went to the farmers market in UJI, they gave us a price much higher than I could have bought them at the supermarket across the street from our Kyoto center… seems to me that they saw this whole thing as nothing more than a windfall…
With the Kozmoz Super Express Aid Truck ( just a beat up old two ton with groovy K-logos on the side ; ) loaded for bear, we took off on this weeks adventure. Both Bernie and I have been burning the candle hard on both ends for the last two months and it seemed to become evident during this trip. I still have a nagging cough that started after spending what felt like the coldest night in recorded history on the floor of the truck on the way back from Ishinomaki in April when we couldnt keep our eyes open for even one more meter on the road that night, and Bernie was looking as if he were rode hard n put away wet… We stopped just outside of Fukushima for a couple hours of rest before heading to our first stop at Oku Matsushima, previously considered to be one of the most beautiful areas in Japan.
This peninsula received a death blow from the tsunami blowing out windows and caving in walls as high as two stories on March 11th and summarily sweeping all the houses, residents, and pets along with many of the roads themselves and depositing them along the hills kilometers inland in a mish mash of rubble that looked like nothing more than piles of straw at that distance. Driving past row after row of divorced foundations with nothing on them sans the bolts that were supposed to hold the houses in place we made it to the Jomon Village where some 500 victims are being cared for.
Due to a large hill at the tip of the peninsula, the village ( actually a theme park/ interactive museum highlighting prehistoric Japan ) and a handful of houses were spared as the mighty tsunami was parted to unleash its devastation on the surrounding areas leaving an oasis in the middle of the destruction. The center has become an ad-hock shelter as many similar places throughout NE Japan have become. The director and his staff have become caregivers and counselors to the aprox. 500 residents from that area. When we first went there two weeks ago with a load of vegetables, it was the first veggies that they had in almost 50 days… This time as well the donations were tearfully received.
After more than 60 days, the power has still not been restored though the power crews are working feverishly and have made it within a bit more than a kilometer from the village. At this pace, they will have power by summer. The work to restore water has not even begun… They have been receiving one bento ( box lunch ) daily and perhaps some bread that has been donated.. not even two full meals a day. This time, a catering company from Yokohama had sent a team to provide a hot meal! They had prepared 'chanko nabe' which is kind of an 'everything including the kitchen sink' soup over thick chewy udon noodles. We also had a bowl since we had missed breakfast driving. What was disconcerting was that since the catering truck had come, the prefectural hall cancelled the bentos for the day…. Would it have killed them to let them have the hot meal AND the bento? I certainly do not think that two meals in a day is anything extravegant….
After catching up with some of the locals and getting feed back about how happy they were to get all the shoes that we brought up a couple weeks back that were donated by an Akido dojo (gym), we headed off for a new place this week out on the Oshika peninsula that we heard was falling thru the cracks and not getting necessary supplies. It was easy to see why they may have not been getting lots of donations as the road was in pretty bad shape. The going was slow mostly because of dips and rises in the road from the earthquake. Of course, many times we were also faced with just a narrow remainder of the road after the quake had With the shadows in the road from the trees and the sharp curves of the mountain road, we couldnt really see them until we were right on top of them. With the back still packed with food stocks we were reduced to going at about 15 to 20 mph because of the times that we did go faster we really pegged a couple of them hard and we didnt want to get to our destination with nothing but vegetable juice and of course we wanted to have a working truck to get us back to Kyoto.
Along the way, the scenery at the inlets was all the same as we had seen in the morning with nothing but the naked top of foundations and the debris from the houses all smashed up at the base of the hills behind them. After a several hour trip we arrived at our destination, a junior high school that was spared up on a hill overlooked the devastation below. The school now serves as a consolidation point for aprox 3000 residents of surrounding shelters and we were greeted by the smiles of many anxious volunteers, many who were college students that had come to help. The first thing that struck me odd, was the lack of supplies given that they are feeding nearly 3000 people. And once again there were no vegetables to be seen. Upon talking with the second in command, a low level clerical staff from the city hall that had become a caregiving administrator, the people there were receiving rice and miso mainly at the same clip as the place we had been earlier. These victims as well were also receiving only one solid meal a day with a snack… What we did find out was that they were not falling between the cracks as we thought they may be, but they were certainly not receiving what they need, nor in the amounts they need and that seems to be the case with all the cases we have visited. We will definitely be back there bringing what we can.
The road back was just as slow and and we still had places to go and a third of a truck full of supplies. On our way back to our final drop in Sendai we drove thru Ishinomaki. I have seen this horror before but I am amazed that it is still this bad after almost 3 months. The smell of death hangs heavy in the air, the stench is almost unbearable… many stores are still smashed in with cars and debris stuffed in the misshapen buildings. The few houses that escaped destruction were newer ones that were swept up along with their foundations and redeposited. It is hard to describe just how upside down and unreal everything seems… with 10,000 people unaccounted for and so many places not having been cleaned out coupled with the amount of fish and sea life that would have been deposited you can imagine the smell… and in the midst of it there are school children going to school, grandmothers with baskets going to the rare open market, and a few shops that have cleaned up, and are trying to make a go of it but the vast majority just sit vacant. The most stark image I have is of a house that was heavily damaged on the first floor that appeared to have a family living upstairs and in front of the house was a child studying at a lone desk with debris, upturned cars all around…. After nearly 3 months, this is all the better that we could do as a society? Let's all ask ourselves what we can do…
Our last stop was a group in Sendai. With the incredible devastation, property damage, loss of life, etc. The economic toll is really yet to be felt. The average lower income family has enough savings to live from 0 to 4 months and very few middle class or upper middle class families have enough to tide them over more than 6 months. That means that the impact of this disaster will hit hard economically over the next few months especially. Where many people lost their homes due to the tsunami, soon people will be homeless from simply not being able to pay the payments and rent on their houses. The governments pledge for aid so far will not even begin to address this problem and the red cross is not in the welfare business. This group and some others that are springing up are trying to address this issue. We are going to need to provide especially food stocks and long term assistance for housing for not only the primary victims of this disaster, but for the secondary victims as well. This problem is not something that is going to be fixed in just a few months and in fact the worst is probably still to come so I hope that all those out there that gave out of love to help these victims will realize that there is still so much to do. We are going to need a lot of people to continue to give of their time, their money, and their houses to enable these people to get back on their feet. Back on their feet and not be swamped by a runaway economy that will flatten them a second time.
God Speed Tohoku
Comments
// Get wp-comments.php template