Posted on June 13, 2011
Filed Under relief & aid | 3 Comments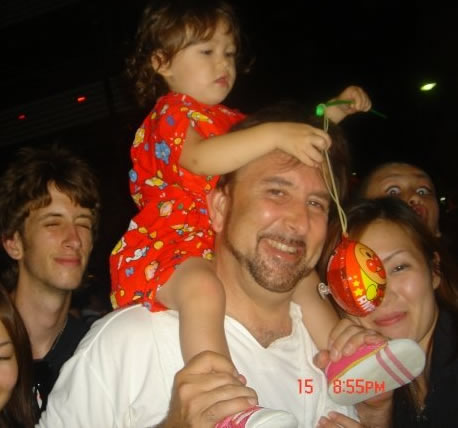 Kozmoz Japan Director, Barry Wyatt, and Tohoku aid supporter Bernie M. have committed to know just how it feels to go hungry. They will be fasting and giving up eating solid food until Kozmoz receives $25000 dollars in additional donations or 40 days, whichever comes first, starting from June 13th to help the victims of the March 11th tsunami in N.E. Japan.
When asked why they are making such a commitment, Director Barry Wyatt replied, "Recently, everywhere I go here in Japan people seem to think that everything there is OK now, and even more so in America and overseas where the news coverage has waned. This situation needs to be addressedand kept in the forefront of the public conscious. Perhaps by Bernie and I making a statement we can help do that. And after living on nothing but water and juice we should be able to understand just that much more what our brothers and sisters in Tohoku have gone through."
Barry further added, "Driving our aid truck to the disaster area since March has been like going between alternate universe every week. Just a couple of hours from the disaster zone people are going about their daily lives as if nothing has changed, while just miles away the devastation in both property and lives is beyond description. We have taken nearly $40,000 in food stocks directly to the shelters in the disaster zone but seeing the depth of the needs and the lack of progress makes me feel that we have to more, much more…"
In the disaster area even after 3 months, the current situation is shocking at best:
with only 10% or so of the debris cleared, there is still around 200 miles of complete devastation, driving thru the area the smell of death hangs heavy in the air.
nearly 10,000 victims are still unaccounted for, either trapped in debris or washed out to sea.
school children are receiving only a roll and milk for lunch.
refugees in many shelters are receiving only one meal a day.
though 20,000 temporary housing units have been constructed, many are refusing them because it means that they will forfeit future aid and they simply cant afford to live in them.
estimates vary but only between 15% and less that half of the aid pledged has found its way to the victims. Most of the money is stalled in the hands of the prefectural governments.
90,000 or more are homeless
vast numbers of jobs have simply disappeared as the factories and businesses were washed away and those trying to get their feet on the ground find businesses struggling to survive because of a decimated customer base unable to hire and many on the verge of collapse.
after 3 months of living in a shelter with no privacy, no space, and no prospect of change for many months many victims are at the end of their emotional ropes.
When asked about the prospects of improvement in the near future, Barry Wyatt stated, "None of these things shows any signs of getting better before they get worse and the effects of the prolonged suffering and economic downturn will affect us all significantly both here in Japan and in America as well. We have a choice to invest now, or pay later for our inaction and I fear that the cost of inaction will be far greater than the cost of action now. That, not even addressing the toll in human terms as the survivors suffer and will continue to suffer for years to come."
Donations will be used as all the previous donations have been used to feed and support those suffering in Tohoku. 100% of monetary or material donations that Kozmoz receives reaches the victims because all of Kozmoz Japan's staff is volunteer and all of Kozmoz' administrative costs are provided for by fees from Kozmoz' educational programs in Japan and abroad. Donors overseas can use the online button on the web site, or send money orders to our American office. Those in Japan can also use the online donation button or furikomi funds.
Comments
// Get wp-comments.php template