Posted on December 28, 2011
Filed Under Kansai Food Bank, relief & aid, volunteer | Leave a Comment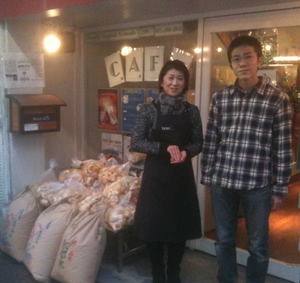 Meet Kunihisa and Keiko, helpers at the Kozmoz Kansai Food Bank Pantry. Food banking didn't exist Japan when Kozmoz came here 17 years ago, and it is still in it's infancy. However with the help of concerned citizens like these and the many others that help, foodbanking and food pantries are becoming a reality. Now each day companies concerned with reducing waste and investing in the communities they profit from, and citizens that feel a need to aleviate the ever deepening scars of poverty are working to expand food bank services. Both Keiko and Kunihisa are more than happy to
receive the people in need at the pantry and provide them with nutritious sustenance.
Needy people in the community are welcome to come and receive food products such as vegetables, staples, fruit, and bread free of charge at our pantry in Momoya or from our mobile pantries. The Kozmoz food bank delivers nutritional foodstuffs to orphanages, retirement homes, and support centers 7 days a week. And of course in times of disaster such as the devistating tsunami of March 11th this year, Kozmoz trucks are on the road bringing aid as soon as humanly possible.
Please contact us if you are interested in helping make someones day brighter here in Kyoto, Osaka, or Kobe!
Comments
// Get wp-comments.php template