Posted on December 29, 2011
Filed Under Kansai Food Bank, relief & aid, volunteer | Leave a Comment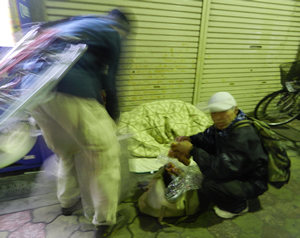 Tennoji station is the largest hub station in south Osaka and home to one of the largest homeless populations in the nation of Japan. It is also the haunt of a man that we call The Batman that helps provide for the local residents with no roof to call their own. We call him The Batman becuase he refuses to reveal his identity as he has a normal 9 to 5 job and fears that if his employer knew of his night time activities he could very well fall out of favor with his superiors.
It is something that we have heard many times and is one of the reasons that the Kozmoz Kansai Food Bank has trouble getting enough volunteer staff. It seems that everyone is a hero when they go to the orphanage or retirement home but there is a real stigma in helping those that have fallen through the cracks and end up homeless.
Kozmoz volunteers spent the evening yesterday with The Batman passing out a mountain of handmade Kozmoz Super Bentos as we have many many times. The evening was bitter cold and the homeless were doing their best to escape the weather under tarps, cardboard or blankets…. With the weather being so cold, it is impractical to have a traditional soup kitchen as we do in warmer months so the staff scour the parks, under bridges, and unused covered parking areas for homeless to present warm bentos, fresh fruit and curry filled breads. Working till the last train home the staff delivered every last meal and spread as much Xmas cheer as possible.
We hope the coming year brings a better life for these unfortunate individuals but we know that nothing will change until we as community members take the bull by the horn and bring change instead of standing by and wishing for change. Merry Christmas from all at Kozmoz.
Comments
// Get wp-comments.php template