Posted on January 9, 2012
Filed Under Kansai Food Bank, relief & aid, volunteer | Leave a Comment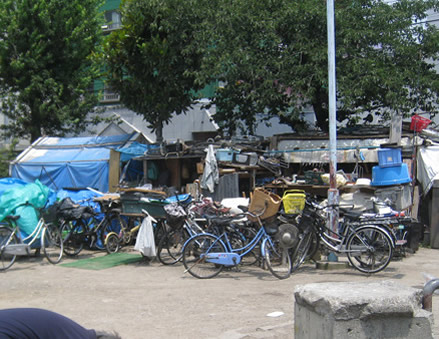 Today was our weekly trip taking aid of foodstocks to the Kamagaseki district in Nishinari Ku of Osaka. With its aptly named Ginza street (named after the elite district of Tokyo), it has been the source and bust of dreams for years in Western Japan. It is also often a shock for new middle class Japanese volunteers to see a part of their community that is often ignored or only seen in passing from the train tracks as the train labors by.
Kamagaseki is the home to both the largest population of day laborers, and conversely the largest population of homeless and highest concentration of homeless in Japan.
For years, unschooled young men could gather here to secure a good paycheck, often cash paid on the spot, for a days work. Each morning, company trucks and busses came to recruit laborers for construction, transportation and factories and each evening, the trucks brought back happy men with more money in their pockets that than their skill set would nominally provide. Like the Sirens of Homer's oddesy that lured sailors to their deaths, the quick money lured many a young man to a shipwrecked life due to lack of insurance and benifits. For the money ceases when a busted knee or twisted back keeps a man off the bus headed to the job site….
Probably one of the cruelest twists were for the many that thought they were going for a days work on regular construction sites only to find themselves working in nuclear plants in the many plants in Fukui, or recently being tricked into working in the crippled Fukushima Dai Ichi plants. However, making a days wage for only working for 2 hours makes it easy to to swallow. An interesting documentary called 'Nuclear Ginza' that was written by a Japanese photographer Kenji Higuchi can be found at:
http://www.youtube.com/watch?v=CNq0qyQJ5xs
In stark contrast to growing economies of the 60's n 70's and the bubble of the early 80's, the average age today in Kamageseki is over 50 years old. And replacing the spirited young laborers of not that many years ago, are mostly broken down old men with bad backs and knees with nothing to look forward but waning years of poverty and lonliness.
Wasn't this pool of day laborers responsible for fueling the great economic expansion in Japan? Isn't the modern infrustructure that exists today the result of thier hard labor? In the current economic downturn, are we to forget those that did so much?
Doesn't even the least among us deserve a nutritious meal? Kozmoz thinks so. We will be there next week as well remembering those that worked so hard for all of us. Just because it is the right thing to do. We hope that you will continue to support Kozmoz' activities so that we can continue to be a support for our communities.
Comments
// Get wp-comments.php template