Posted on June 13, 2011
Filed Under fast | Leave a Comment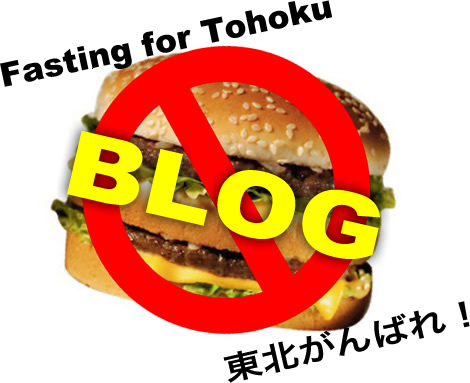 OK! Here we go. I still think this was a great idea though Bern was dragging his feet a bit ; ) WE WILL SUCCEED in our quest. And that is to renew interest in the ongoing tragedy in NE Japan! In the meantime, Bern and I will be giving up solid food for 40 days or less IF AND ONLY IF support is so overwhelming that $25,000 dollars is donated to help the survivors in Tohoku. Either way, a lot more aid is needed and will be needed for years to come.
I think the word survivor is import because many people beyond just those who lost houses have been deeply affected. A large percentage of Tohoku residents lost loved ones and the number of jobs that have been lost is staggering. Please follow us as we Fast for Tohoku. For what it is worth, both of us could stand to loose a few pounds ; ) I start this journey at a solid weight of 107 kg and Bern tops the scale at a robust 146 kg. We will give up all solid foods and be surviving only on water and juice. Whatever we may lack over the next month and a half, it will pale in comparison to the loss our Brothers in Tohoku have experienced.
Check in with you soon,Barry
Comments
// Get wp-comments.php template