Posted on June 17, 2011
Filed Under fast, relief & aid, volunteer | Leave a Comment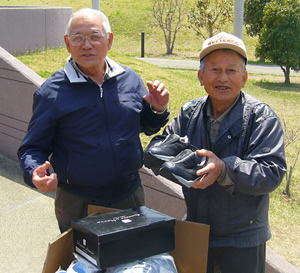 Talking to one of my friends last night, Chuck, who helped us get together aid packages for the survivors in Tohoku and even drove the truck up when my schedule was a problem. It brought to mind these two fellahs to the left here, and I hunted up a picture of them.
Chuck is a friend of my good friend and Kozmoz icon Bernie and stopped by the cafe one evening for some beers and we talked about the needs in Tohoku and what Kozmoz was doing to provide aid. After thinking about what he might be able to do as well, he started by sharing the needs with the students from his Eikaiwa school, the dojo where he practices Aikido, and called some of his friends….
Not only did his students contribute quite a few donations and cover all the costs of the truck, the members of his dojo got together and donated hundreds of pairs of new shoes and sandals. All in all, because Chuck decided to do what he could, the outcome was really quite significant. It is amazing what can happen when someone shares a little love.
Which brings me to the picture of the two fellahs in the picture. After having their homes in Oku Matsushima washed away, and coming to the shelter with nothing but the clothes on their back, they were absolutely ecstatic at receiving some new shoes. And ya know what, I was pretty happy myself, as were the members of Chucks dojo, the students at his Eikaiwa school and of course Chuck and his wife were tickled pink as well.
Seems that happiness is catching. Right now would be a good time to share some joy with some people in Tohoku that could really use some. Its as easy as hitting the donate button on the right ; )
God Speed Tohoku
Comments
// Get wp-comments.php template