Posted on December 19, 2012
Filed Under events | Leave a Comment
We will be serving Christmas Dinner to the Homeless, this year near Tennoji Osaka.
Would love to have you help. We will be making Meals at the Kyoto Kozmoz Center from 11:00 and delivering the meals in the evening so drop us a line if you can help!
Posted on December 19, 2012
Filed Under events | Leave a Comment
All day on the 24th, we will be enjoying and sharing the Christmas spirit here in Kyoto.
11:00~ open house with lots of Christmas goodies☆
6:00- kids party
7:00 Kozmoz Kids Choir
7:30 Christmas Message
8:00 Christmas Party
Hope to see you!
Posted on December 19, 2012
Filed Under events | Leave a Comment
December 21, 2012
12:00 am
to
11:00 pm
Name says it all, dont know if the Mayans were right but it sounded like a great excuse to for all the Kozmoz family and friends to gather for some good food n make some memories. Drop a line if you are able to come!
Posted on October 25, 2012
Filed Under Kansai Food Bank, relief & aid | Leave a Comment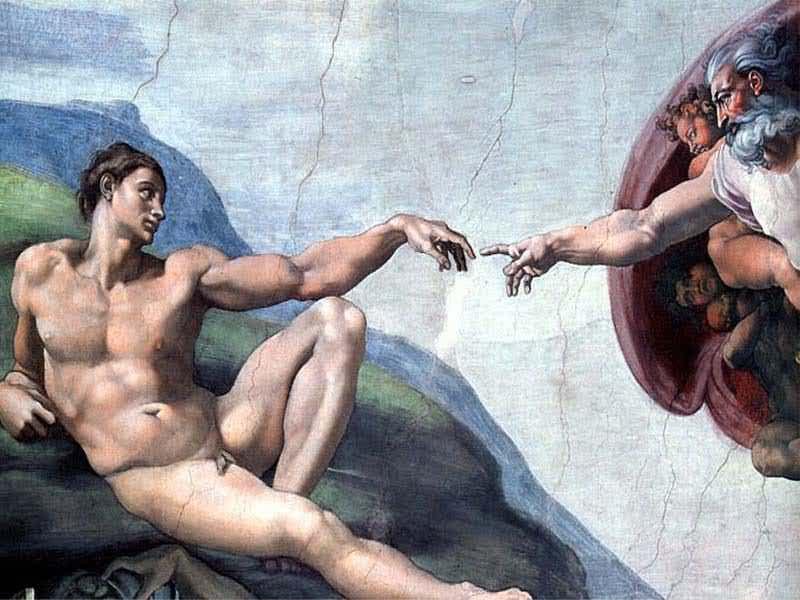 Playing God with our Food
We talk alot about Food Security here. That is the ability for everyone to procure the base required amount of calories and nutrients daily. But there is another looming threat to Food Security that has become increasingly widespread. It is called the Gene Revolution in which scientists are modifying the genetic structure of plants and animals with the goal of producing new strains that resist disease, agrochemicals, and pests or even thrive in areas watered with sea water. It sounds wonderful, but is it playing out that way?
Posted on October 2, 2012
Filed Under Kansai Food Bank, relief & aid, volunteer | Leave a Comment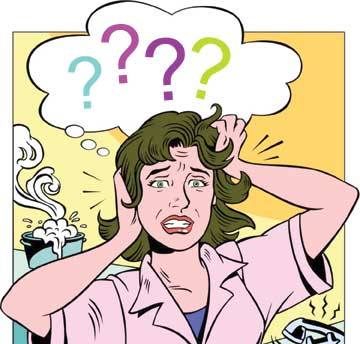 Imagine you are a working mom of 5, trying to make ends meet, raise the kids be a good wife, expecting everything to go just like it does on the TV shows and suddenly… one night your husband does not come home. Nor does he come home the next night, or the night after…
And with him goes his monthly paycheck… This happens all too often, and it happened to Mrs. N, one of the working moms that the Kozmoz Kansai food bank supports. For months, she received no word from her estranged husband, no monetary support, no help getting their 5 kids up, dresssed, make bentos, meet with their teacher, cook dinner, wash the clothes, clean the house, wash the dishes…. all while the phone rings with people wondering why you did not pay your bills last month and you try to earn enough money to maintain a minimum standard of living and not make the kids suffer during an emotionally disturbing time…
Posted on September 6, 2012
Filed Under Kansai Food Bank, relief & aid, volunteer | Leave a Comment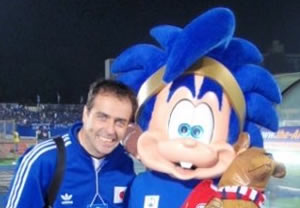 Meet Alan Gibson( on the left), our man on the ground in Kobe Japan. Alan coordinates weekly pickups of fresh fruit at the Port of Hyogo for the Kozmoz Kansai Food Bank.
Raising kids and working can really take up your day, but Alan takes busy to a new level, heading up the new Japanese soccer magazine JSoccer, is a staff writer for the Gamba Osaka professional soccer team, and can be found DJ'ing evenings around the Kobe area. In spite of having such a demanding personal and business schedule, he was moved to make time for the needs of the less fortunate in his community upon finding out about the needs and the opportunity for him to make a difference.
There are many reasons for poverty in our communites,
Posted on August 31, 2012
Filed Under events | Leave a Comment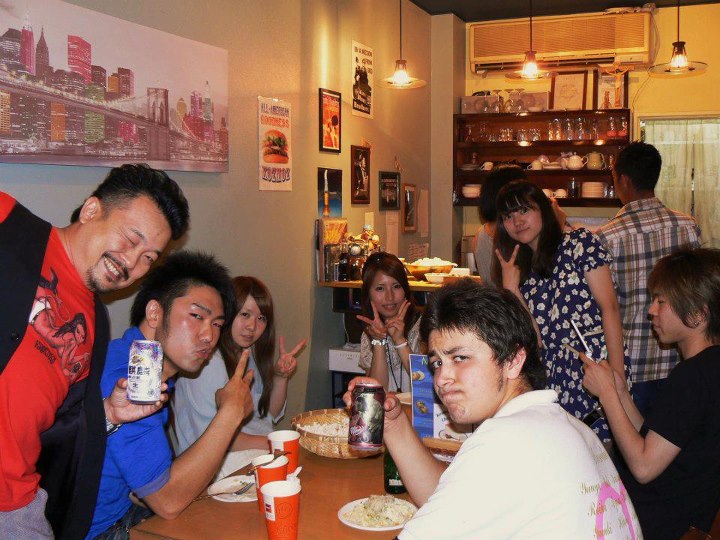 Hey guys, hope all is well!!
Just wanted to inform everyone this Saturday we are having our monthly party this Saturday!
Sep. 1st Saturday 19:30~
@Fushimi Kozmoz Center(5 min. walk from Keihan Fushimimomoyama station)
¥1000- All you can eat, Beer ¥400, Cocktails ¥100
We are bringing back Cocktail Night!! All cocktails are ¥100 hope to see everyone there!
Posted on August 22, 2012
Filed Under Kansai Food Bank, relief & aid, volunteer | Leave a Comment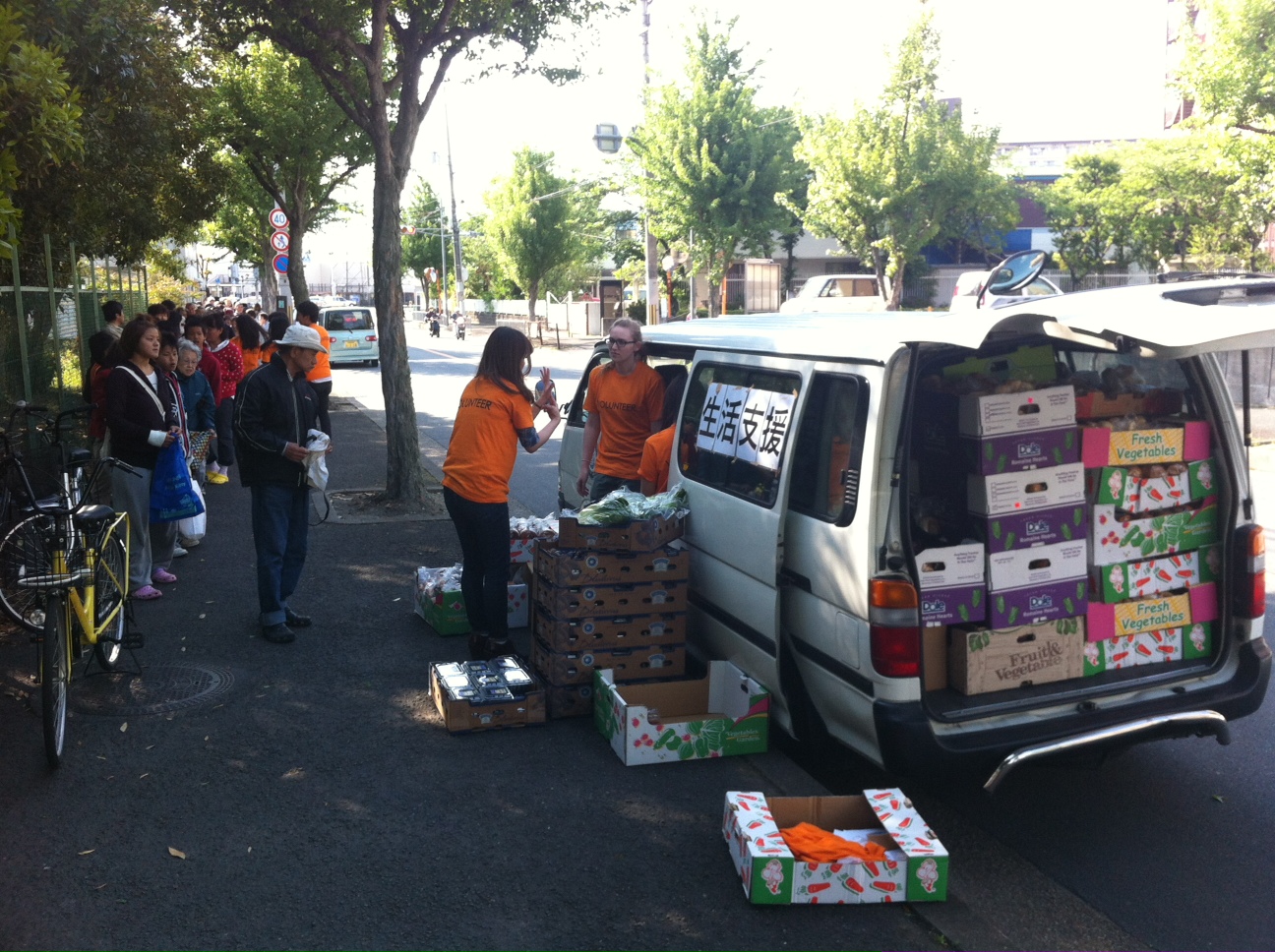 Each week, hundreds line up rain or shine at this public housing complex in South Kyoto to receive food donations from Kozmoz International.
The people are real, the needs are real, and the needs wont go away until there are some fundamental changes made in our society. These people are not homeless, they are hard working mothers, fathers and elderly trying to stretch their bugets to make it through to the next month. An everly large number are elderly, their fixed budgets decimated by inflation.
As real as this need is, the needs around us go completely unnoticed by so many of us…
Posted on July 15, 2012
Filed Under Kansai Food Bank, volunteer | Leave a Comment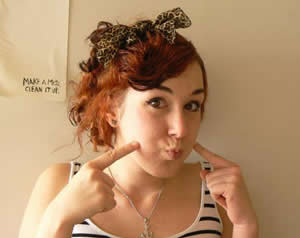 Meet Verdiana, one of our super volunteers at the Kyoto Kozmoz Activity Center. After graduating from the University in Florence Italy, she came to study Japanese in Kyoto where she found out about Kozmoz Kansai Food Bank.
Since her name is a little difficult for some Japanese people to pronounce, we call her Midori. Midori may go down in history as one of the hardest working volunteers in Kozmoz history. She helps teach adult and kids classes and is universally a hit. But she is just as at home sorting food stocks and passing out donations to individuals and families here in Kansai that are falling thru the cracks.
In fact she is just so excited about what Kozmoz is doing here in Japan that she has been working making a facebook page and facebook group page to keep people informed about ways that they can help make tomorrow a better place for our children. If you have time, stop by the Kozmoz Facebook page and shout out to Verdiana and thank her for all her hard work!
Posted on June 28, 2012
Filed Under founder | Leave a Comment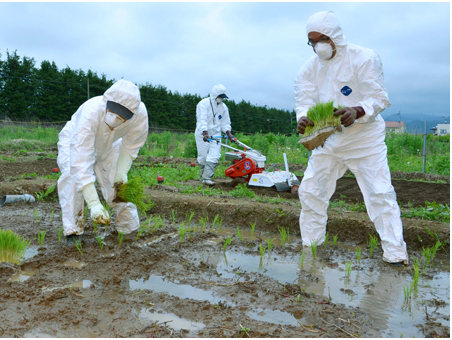 In Fukushima, workers in protective gear plant rice to moniter the uptake of nucleoids in contaminated soil….
After realigning the energy production of Japan to include almost no nuclear production over the last year in response to public concern of the tragedy at the Daiichi Nuclear Complex in Fukushima, plants at the highest concentration of nuclear energy production in the world will be restarted in Oi, Fukui prefecture. Up until just weeks ago, politicians from all over the region had voiced their strong opposition to restarting the plants of concerns of risks and potential danger… only to have a suddent and mysterious about face. Even after proclamations at the National level just recently that Japan was committed to curbing its energy appetite and seek to bolster production in areas of renewables.
As a resident here in Japan the whole situation over the last 15 months has been absolutely surreal as I have tried to balance my desire to help the stricken, protect my family and attempt at best to obtain valid information on the actual risk and progress of the handling of the stricken Daiichi plants.
Though the government has claimed a successful cold shutdown of the plants, in all actuality only plant no. 2 has been examined at all and as of April the water level in for the fuel rods was found to be far lower than expected inferring a risk of overheated fuel which may melt resulting in the abilty to control reaction as they loose their stability. The radiation levels in no. 1 and 3 are so high that there is currently no instuments capable of viewing or establishing the condition in the plants…. Read more
« go back
—
keep looking »